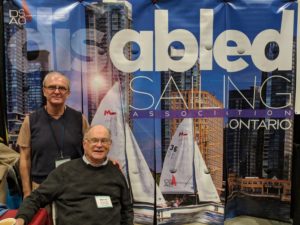 Be part of a successful team making a difference in your community, and have fun in the process!
Volunteers are an integral part of DSAO – Toronto. They help out as transfer assistants, sailing companions, and event and social coordinators.
Without volunteers, the DSAO – Toronto program could not happen.
If you are interested in signing up to receive more information to volunteer with us, please fill out the following form:
"Of all the volunteer jobs I have (and I have several), the one at DSAO is one of the more gratifying. It is great to go out with people for whom this time on the water is the highlight of their week. You really feel you are contributing something to their well being. And yes I love sailing. It is one of these win-win situations life doesn't offer enough of." 
~ Marcel Deurvorst, an 18 year Volunteer with DSAO