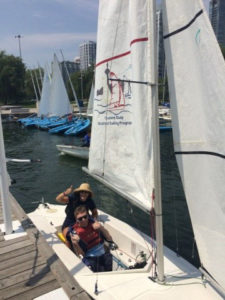 *** 2022 Member Applications are now available ***
The 2022 Sailing Season is now under way!
The 2020& 2021 Sailing Seasons were ones we had never experienced before. We were very fortunate to have our program continue to run and thank all of our members, volunteers and donors for their support the last two years.
Since COVID still poses a risk to our community, we will continue to ensure we keep the health and safety of our Members, Staff , Volunteers and any DSAO Participant as our top priority. As such, we are still requiring that all DSAO participants be at least triple vaccinated and masks will continue to be worn while sailing in close proximity.
The good news is we are sailing again this season!!!
As with any other year, we encourage all sailors, volunteers, donors and supporters to join DSAO as members. Membership includes a vote at the AGM as well as our very popular start and end of season BBQ's.
Sailing members have access to DSAO sailing programs, including boats, safety equipment, assistive devices and dockside assistance during program hours of operation. In 2022, Sailing Members can recreational sail and receive instruction while sailing, but unfortunately, at this time, we are not offering our formal CanSail Program.
Volunteer Members take an active role in the organization by volunteering as a sailing companion, dock assistance, or other ways they can contribute to helping the operations of the organization. Our program does not run without our volunteers!
Keep checking back to our website for the schedule and other events in the 2022 Season.
2022 Membership will expire at the next AGM and is subject to Board Approval.
Each year, new sailing members and returning sailing members are required to disclose relevant health information and a waiver form upon registration for membership. There will be a separate request for accommodation information as well as reminders of COVID-19 Protocols after membership is approved. The documentation is strictly used by staff to provide the most appropriate dockside and on-the-water service. Individual annual memberships are not transferable.
We welcome you to join us in getting out on the water this year!
Registration Application for 2022 Membership can be found: HERE
If you are unable to access the application form, please email: [email protected]
| Member & Sailing Fees | Price ($ CAN) Per Person |
| --- | --- |
| Seasonal Membership | $60.00 |
| Each Sail Outing (1 hour) – Recreational | $20.00 |
| CANSail (I,II,III) Lessons | unavailable for 2022 |
| Non Member Sail Outing | please inquire |
| Group Sail Outings | please inquire |
| | |