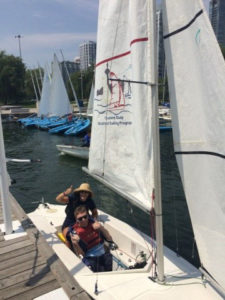 We encourage all sailors, volunteers, donors and supporters to join DSAO.
Sailing members have access to DSAO programs, events and equipment, including boats, safety equipment, assistive devices and dockside assistance during program hours of operation. Members can sail recreationally, participate in racing, register for sailing courses, or volunteer as a companion sailor. Members are invited to attend any DSAO Social Events and the DSAO Annual General Meeting held in the Fall.
Individual annual memberships are not transferable. Community health, independent living and social service organizations that purchase one or more individual annual memberships can transfer the use of these memberships between their clients so as to best service their community.
New members and returning members are required to disclose relevant health information and a waiver form upon registration. The documentation is strictly used by staff to provide the most appropriate dockside and on-the-water service.
Membership is for the calendar year in which it is granted.
Join us in providing sailing opportunities to Ontarians, regardless of ability or age.
| Member & Sailing Fees | Price ($ CAN) Per Person |
| --- | --- |
| Seasonal Membership | $50.00 |
| Each Sail Outing (1.5 hours) – Recreational, Instructional, Outreach and Racing. | $15.00 |
| CANSail (I,II,III) Lessons (includes 6 instructional & sailing lessons) | $150.00 |
| Around the Island Sail Outing (3 - 4 hours) | $30.00 + $5.00 for BBQ |
| Non Member Sail Outing (1.5 hours) | $30.00 |
| | |
New for 2018 – Membership bursary available
We understand that there may be individuals who would love to join DSAO but may not have the necessary funds to do so. We encourage those to apply for one of our bursary memberships and ten sails for the season (worth $250).  All we ask in return is that individuals give back to DSAO in whatever way they can (by volunteering, encouraging others to join, or simply by saying 'Thank You').
We thank everyone for their applications.