All DSAO staff are exceptionally qualified individuals that meet the needs of our members. Most have been full-time students studying disciplines such as science, nursing, business, early childhood education, occupational therapy and others. Their common link is their passion for the sport of sailing and their desire to share sailing with everyone.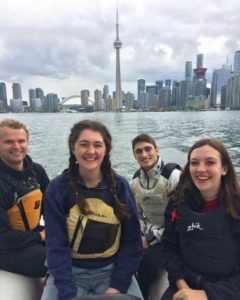 "Working at the DSAO was a one of a kind experience. It was extremely rewarding to see the positive impact my work had on the lives of many others. I would strongly recommend working with the DSAO to anyone looking for a job where they can engage in the sailing community whilst being exposed to and helping an amazing group of members."
~ Derin Bilgen, 2017-2020
"Working at DSAO was the most fulfilling and rewarding job I've ever had. As a lifelong sailboat racer, it was great to be able to take a more wonderful and challenging approach to teaching sailing and share my love for the sport with others. I gained a completely new appreciation for sailing and made great connections with DSAO members and volunteers alike. I couldn't have asked for a better summer job!"
~ Christina Black, 2017
Currently, DSAO – Toronto is looking for individuals who want a unique and rewarding opportunity to join an organization dedicated to improving the lives of others through the sport of sailing.
Positions we have available for the 2021 season include:
Daytime Sailing Instructor (certification needed)
Daytime Office Manager
Daytime Sailing Companion
Evening racing program Coach
Please email us at: [email protected]