Steve and Rick visited the AGM location this past weekend and have put together the following narrative (with pictures) of their adventure!
~Rick and I visited the RCYC this week ahead of the 2018 DSAO AGM that was previously held at NYC.  NYC is not available to us this year because of conflicting events. We are very thankful to NYC for their generosity in letting us use their facilities in the past and continue to have a great relationship with them.  We are also excited about having this years AGM at the RCYC.
Overall the RCYC gave me a feeling similar to that of the Mississauga YMCA. It is full of casual family friendly spaces with a focus on sports and fitness. The difference, of course, is that the RCYC is sailing themed. Paul Henderson gave us the grand tour. The spaces were warm and inviting just like all of the people we met including Commodore Chris Mitchele.  We had a great conversation with Chis. We discussed the accessibility features of the building and saw how inclusion and access are important to the RCYC. They have accommodated their member's needs.
Below are a few things I noticed During our tour with Paul but there is more for you to discover on November 17th.
Entrance – There is a grand main entrance with several stairs at the front of the building. I spent some time in the foyer looking at the pictures, art….  While I was there no one used this entrance. Members used the other entrances. I found out that the only time members use this entrance is for events like weddings.  The accessible entrance is a ramped sidewalk alongside the driveway that leads to a door with a door opener. Once inside a wide hallway leads to a reception area where the elevator is located.  This is a picture of the ramp from entrance: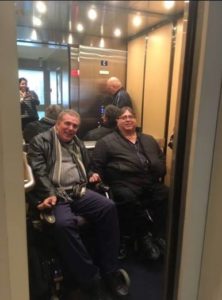 Elevator – Similar to the elevator you would need to use to access the large meeting area at NYC.  RCYC's elevator might be a bit bigger. We easily fit my and Rick's wheelchair plus a person into the elevator.
Washrooms –  One wheelchair accessible washroom right beside the Bistro and one wheelchair accessible change room that includes a large washroom and a large roll-in shower complete with a fold down shower bench on the 3rd floor.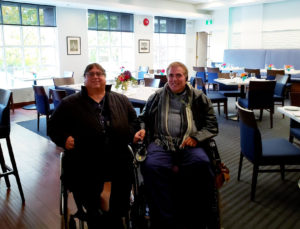 Bistro 1852 – This is the room where we will have the AGM. Some of the tables and chairs will be removed for our meeting with lots of room to maneuver assistive devices.
The Model Room – I only took a quick peek into this room(no pictures) because there was a celebration of life event being held there. This room contained an amazing collection of half models, some predating WW1. There are more half and full models in different locations around the building. If you like nautical history, you are in for a treat. Look out for the Aileen 1882.  I wonder how much ballast they had to put into the bulging lower hull to prevent this one from rolling over. Our social, directly after the AGM, will be held here. 
Other great things about the building: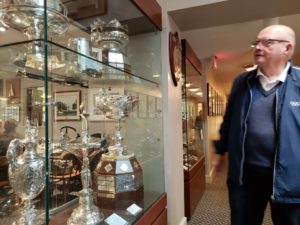 Trophies – Paul Henderson showing us the trophies he has won, which was most of them.
The cornerstone of this building was laid by Prince Philip. It made me think of the picture of Princess Diana at Holland Bloorview Kids Rehab that was installed after she came to visit. Rick also comment that the tradition continues as evident with Prince Harry's tremendous dedication to effecting positive change to the lives of people with disabilities through sports.
Fitness and Sports – Squash Courts, Weight Room
Swimming Pool – In addition to aquatics programs, model sailboats are raced here in the winter.
Basketball Court – badminton nets were set up. It is also used as an auditorium for large meeting. Rick was eyeing it as a place to play boccia ball.
Shillelagh for a Giant – no one is sure of it's origin. It was fished out of the lake and found a place here.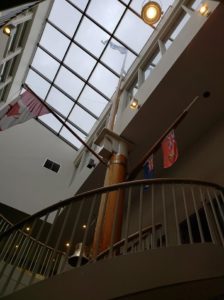 The centerpiece of the atrium in the fitness and sports area is a flagpole that broke through the glass ceiling. ~
Steve Franczuz
to see more pictures, please check out our Facebook Community Site: FACEBOOK Community Site